Upcoming Workshop
845-417-8261 (phone or text)
HEALING YOUR LIFE FROM WITHIN – A "WISDOM PROCESS" FOR RENEWING CARING HEARTS 
Weekend Retreat (north of NYC)
Sept. 15th evening – Sept. 17th noon, 2017
This weekend is a gentle yet very deep dive into intuitive renewal practices for healers and caregivers. It honors both the gifts, and the unique challenges and emotional stresses of those with caring empathic natures.
Through inspiring partner exercises and group experiences, you will be guided to identify and transform the energy-field habits and depleting neurological patterns that stand in the way of your deeper self-caring and self-honoring.
We will be the only group at this sacred retreat center, and our time together as a community will be infused with unitive intention.
CORE CURRICULUM:
* Wisdom Process (Self-Healing Energy Awareness Combined With The Latest Positive Neuroplasticity Techniques). This healing method energetically and neurologically links your vital inner-healing sources with the wound-related patterns and blocks that can diminish your self-caring abilities. It expands your capacity for bringing healing energies into your heart and spirit, and better aligns your life with your deeper soul messages.
* Energy Boundaries & Energy-Healing of Relationships. This work in the "relational" energy field provides practices for you to build a stronger supportive auric web around you – a web built of diverse yet unitive life relationships.
ADDITIONAL ACTIVITIES:
* Healing Power of Rhythm – energy-based group drumming session (no experience needed – drums provided), Sacred Sound, Healing Group Singing, Sacred Circle Dance, Evening Fire Circle, Evening Spirit Crafts.
Participants in the program need to be in basic general good health physically and emotionally, as this is a learning/training environment.
LOGISTICS:
Contact Priscilla Bright directly to learn more, and for all questions and registrations:
* Weekend cost with room: $450 Total (includes program materials, meals, shared bedroom – single bedrooms also available)
* Weekend cost without rooming: $290 Total (program materials and meals).
Rooming per/night: shared room $80, double room $85, single room $160. Can link-up roommates, camping available.
Location/Travel Details:
* Lifebridge Sanctuary, Rosendale, NY, 80 miles north of NYC.
* Very easy public transport and driving (Trailways bus NYC Port Authority to Rosendale, then short cab ride).
Dates/Times:
* Fri. 9/15: 8pm-9:45pm program (dinner served before)
* Sat. 9/16: day program, plus evening event
* Sun. 9/17: morning program (check-out after lunch).
Priscilla Bright, MA
845-417-8261 (phone or text)

Overview of Priscilla Bright, MA Programs
Remember: Ongoing Inner-Healing Programs in NYC Fall-Spring.  For information about 2017/2018 in NYC contact Priscilla.
Priscilla is a gifted and heartfelt group facilitator who has led thousands of participants over three decades in her inspirational retreats and workshops. These powerful group programs are designed especially for the world's healers and caregivers, as well as those who may not be in a healing profession but who feel a strong calling to being a healing force in their life and community.
Meet Priscilla
Priscilla Bright, MA – energy healer and experienced international healing instructor with over 30 years in the healing and holistic health fields.  Founder and leader –  Healer's Path programs NYC.  Faculty –  Omega Institute For Holistic Studies,  New York Open Center, One Spirit Learning Alliance.  Graduate – Positive Neuroplasticity Professional Training (Dr. Rick Handson).  Former School Dean –  international Barbara Brennan School of Healing.  MPH –  Health Behavior/Health Promotion Boston University School of Medicine.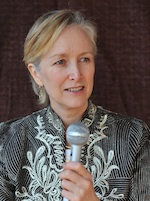 Priscilla's programs are designed for those who feel a call to be a deep healing presence in their life or work. Participants are trained to access and build their internal healing energies, and to utilize these for both their own self-care and inner-healing, and for developing hands-on energy-healing skills and healing presence with others. These programs also connect participants to the support of Priscilla's ongoing healing-community activities online and at retreats.
Priscilla's individual client work in energy-healing work and stress reduction is in New York City & New Paltz, NY, and on phone and Skype. Her work reconnects clients with their own inner-healing energies and wisdom, enabling them to move with grace along their soul's transformational healing path even in the face of stress, change, or physical or emotional challenge. Clients receive energy healings, and also are guided to strengthen their own intuitive energy awareness and energy skills for self-care and self-healing.
Call or text Priscilla at (845) 417-8261 or email priscilla@priscillabright.com for more information.